October has been a busy month, and it's not over yet!!
Full of cupcakes, the color pink and amazing artwork. There have been so many wonderful events that have benefited
The Pink Show
, which this year raised funds for the ME-One Foundation.
I was honoured to have been asked early in the year to create a painting for The Pink Show benefit concert which would be auctioned off as well as used for promotional purposes. I knew the painting would be a challenge for me from the very beginning. I was incorporating buildings (yikes, i never paint them) not to mention an extremely awesome historical building (double yikes)
The Tower Theatre
. I also wanted to paint 5 different types of women in the painting. some who have been through cancer, some who may have fought and won. some who have been affected by knowing someone with cancer. Each women represents one of us. I worked on the painting every chance i got, re-doing the Tower Theatre's logo until it was just right. 3 weeks later i finished it, just in time for my trip to Australia. I was so relieved to hear that Cynthia liked it after shooting her an email of the painting!
(Cynthia and I at The Grizzlies Game)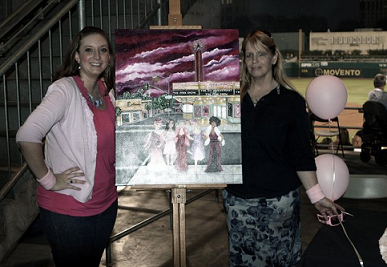 Then the events began! First, went to a Grizzlies game to promote The Pink Show and I brought the painting to be on display. It was a hot day at the ballpark, but it was definately good to hang out with Cynthia and get to know her better. She is the co-founder of The Pink Show along with Mary Lozano who sadly passed away from breast cancer a few weeks ago. The Pink Show began in honour of her and all people who battle breast cancer, and 5 years later has evolved into much more. I think that Mary would be so proud of all of the hard work that Cynthia has put into The Pink Show.
(<-- me with artist Christina Martinez who created the art for the postcard)
Next was The Pink Show Art Exhibit @ Chris Sorensen's Studio & Gallery on Van Ness. It was fun to meet some of the artists and be among all the pink! My painting for the art exhibit is a portrait of my cousin Amanda who is currently battling breast cancer. She is a strong women and I know she will overcome it!
Then came The Pink Show Parking Lot Sale in
the
BeBeO's
parking lot on N. Fulton.
It was a great experience, first time setting
up an outdoor booth for my art. A big thank you to Marty & Lupe Oftedal who organized this event, which benefited The Pink Show. You guys are awesome!!!
Last was The Pink Show Benefit Concert @ The Tower Theatre with musical performances by local musicians
Steve Ono
,
Lance Canales
and
Patrick Contreras
. My Mom, Aunt Laurie, Aunt Dana and Jody came from out of town to support me and support the cause. I'm very thankful they were there, I was kind of scatterbrained with all the people I tend go get overwhelmed easily. Thank you also to my boyfriend mom, Chris and her friend Gail who came out. Gail is the one who ended up getting the painting at the end of the show. Glad it went to someone I know!
So, now that events of The Pink Show are over...It's time for Halloween :-} I have a Halloween group art show tomorrow and friday @
The Treasury
. Then next week, Nov 2nd. the Day of the Dead Celebration (art exhibit) @ The City Arts Gallery. Both of these locations are new galleries in Fresno, and i'm very excited to be a part of these exhibitions. I love that Fresno is welcoming new galleries and that people get out and go to Art Hop. It's just really awesome. Ok, enough from me!! peace, i'm out!
Pics of The Pink Show events 2010